Natalia Lipnitskaya (BY/F)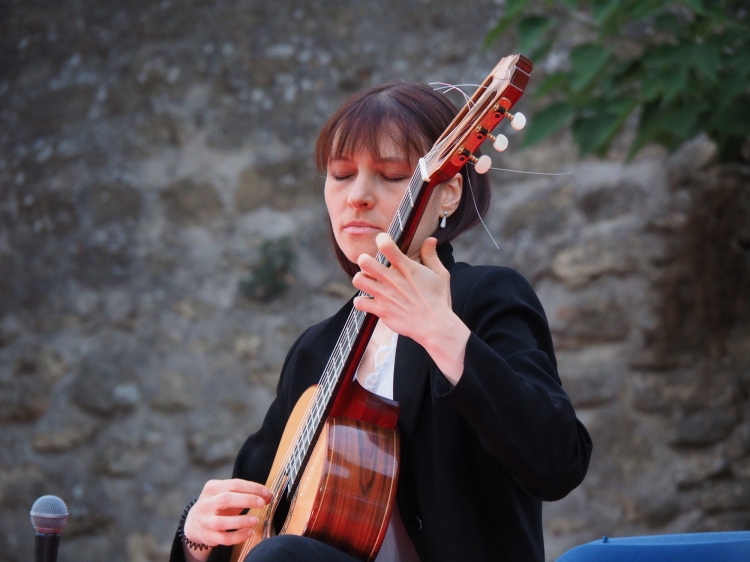 Award winning guitarist Natalia Lipnitskaya was born in Minsk (Belarus) in 1980. Natalia began playing when she received a guitar from her parents at the age of nine. Her first teachers were Marina Dubovik and Vladimir Belyshev.

Natalia continued her musical studies at the Academy of Music in Minsk (Belarus) with Evgeny Gridiushko (1999 - 2004), later at the University of Music and Performing Arts in Vienna (Austria) with Alvaro Pierri (2003 - 2008) and at Conservatoire National Supérieur de Musique et de Danse de Paris (France) with Olivier Chassain (2006-2007).

Natalia Lipnitskaya is a laureate of several international guitar competitions:
1999 - 1st prize at the National guitar competition, Mogilev, Belarus;
2000 - 2nd prize at the "Czeslaw Drozdziewicz" International guitar competition, Krynica, Poland;
2002 - 1st prize at the "John Duarte" International guitar competition, Rust, Austria;
2004 - 2nd prize at the Kutna Hora International guitar competition, Kutna Hora, Czech Republic;
2004 - 1st prize at the "Antonio Aparicio" International guitar competition, Alicante, Spain;
2005 - 1st prize at the Savona International guitar competition, Savona, Italy;
2010 - 2nd prize and the audience prize at the "Ville d'Antony" International guitar competition, Antony, France.

Natalia received a scholarship from the Dr. Robert and Lina Thyll-Dur Foundation, Switzerland (2006 - 2008), was a member of the Yehudi Menuhin "Live Music Now" Foundation (2004 - 2008), and soloist on National Belorussian Radio (1999 - 2003) and "Bartok Radio" in Hungary (2005 - 2008).

Since 2000, Natalia has given solo recitals and masterclasses all over Europe (Russia, Belarus, Poland, Austria, Czech Republic, Italy, Spain, Hungary, France, etc.) and in the USA (California and Texas). Her wish to share her love of music has also led her to collaborate in chamber settings with Anna Rebekka Ritter (violin), Vitaly Lutsyk (double bass), Timea Cipriani (soprano) and Dima Tsypkin (cello).