Alen Garagić (BiH/SLO/CH)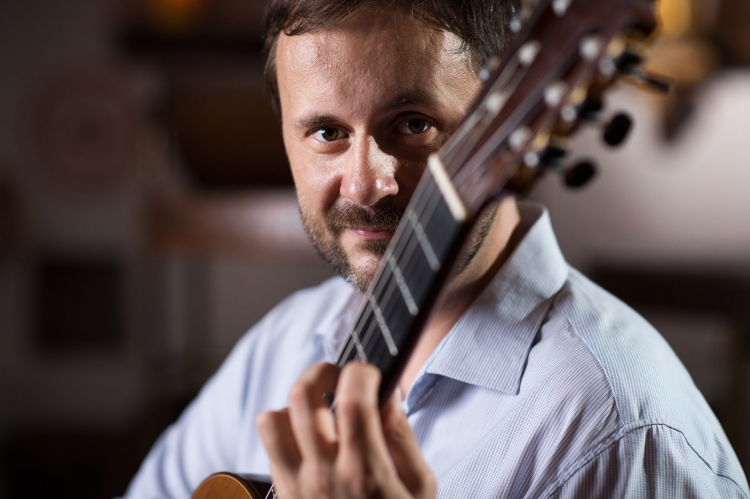 PROGRAMME


Johann Sebastian Bach (1685 - 1750) VIOLIN SONATA, BWV 1001 (arr. Alen Garagić)
Adagio
Fuge
Siciliano
Presto

Joaquín Turina (1882 - 1949) SONATA, OP. 61
Allegro
Andante
Allegro Vivo


*****************************************************************************


Dilermando Reis (1916 - 1977) SE ELA PERGUNTAR
XODO DA BAIANA

Jose Luis Merlin (1952) CARNAVALITO
EVOCACION
JOROPO

Jorge Morel (1931 - 2021) DANZA IN E
DANZA BRASILERA

Astor Piazzolla (1921 - 1992) INVIERNO PORTENO
LA MUERTE DEL ANGEL


Defined by the press as "...a sublime artist and an excellent performer…" (José Luís López, Seville, Spain), guitarist Alen Garagić has earned a reputation for performing a wide range of repertoire with an absolute commitment to communicating the essence of the music at its most profound level.

Since winning the »Guerrero« International guitar competition in Madrid in 2004 at the age of 24, he has been performing as a soloist in music festivals, such as the "José Tomas" in Alicante (Spain), the Guitars of the World in Buenos Aires (Argentina), the International music festival in Toledo (Spain), the Tampere International guitar festival (Finland), Daejeon International guitar festival (Korea) etc.
When not performing in concert halls, Alen is likely to be found on clubs' stage, performing varied music, such as jazz or flamenco, as well as performing sonatas by Bach or arrangements of traditional Balkan music. As an avid chamber music performer, he has been performing regularly with his East-West Strings Project together with guitarist Denis Omerović. His constant pursuit of new challenges has also led him to expand his horizons and start exploring Paco de Lucia's flamenco music, and since 2018 has been studying and regularly performing his flamenco music.
In addition to his artistic work, he has been working since 2012 as a recording producer and in 2014 became the owner of Dyvia records music label based in Slovenia. One of his most recent works is his latest release of a new CD called "Departure", which was recorded in Barcelona (Spain). Since 2019 he is a director of guitar salon Vadya based also in Slovenia.

Since stage performance was a big part of Alen's journey, the issues with performance anxiety and stage fright were also very present at the beginning. During the last 18 years, he has explored many different techniques, from Alexander technique, mindfulness meditations, different types of yoga techniques, mantras to EFT (Emotional freedom techniques) and Matrix Reimprinting. In 2016, Alen wrote the thesis titled "EFT as a tool for managing stage fright and performance anxiety among musicians", with the idea in his mind to share his experience and knowledge as a full-time performer and offer solutions for any artist dealing with performance anxiety and stage fright. Since then, he has been presenting his program "Dealing with Performance Anxiety" to students and teachers.

Alen started playing guitar at the age of 13 at the Secondary School of Music in Tuzla (Bosnia and Hercegovina) and played his first solo recital at the age of 14. He continued his musical education and received his bachelor's degree in Guitar Performance in 2001 at the Royal Conservatory in The Hague (Holland) where he studied under professor Zoran Dukić. After graduating, he moved to Spain where he was studying Guitar Performance and Chamber music with Professor Alex Garrobe and Fernando Rodriguez at ESMUC in Barcelona. He also studied guitar performance with Professor Franz Halasz at the "Hochschule für Musik" in Nuremberg, (Germany) where he received "Meisterklasse diplom" in 2006. He finished his studies by receiving a master's degree in music education in Ljubljana (Slovenia) under professor Tomaž Rajterič in 2016.