Vuk Vukajlović (SRB) & Uroš Jaćević (SRB)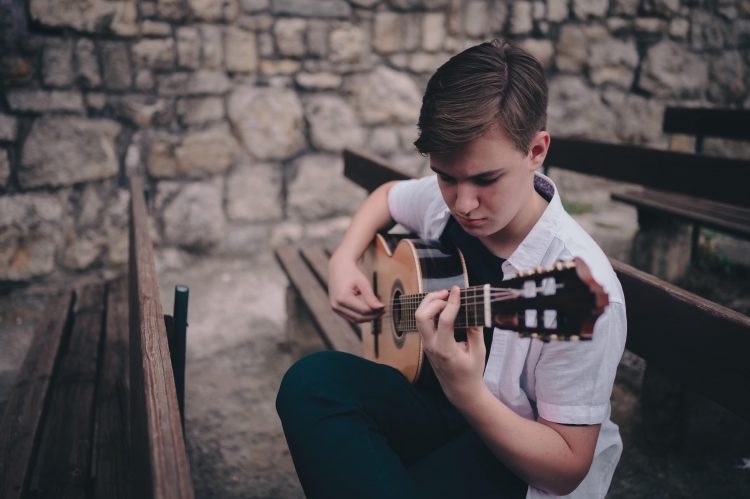 PROGRAMME


Mario Castelnuovo - Tedesco (1895 - 1968) EL SUENO DE LA RAZÓN PRODUCE MONSTRUOS
CAPRICCIO DIABOLICO

Lazar Ostojić (1987) VIENNA

Isaac Albéniz (1860 - 1909) SEVILLA

Antonio José (1902 - 1936) SONATA
III. Pavana Triste
IV. Final



Vuk Vukajlović

was born on April 7, 2005 in Belgrade, Serbia. He enrolled in the Music school "Kosta Manojlović" in Zemun – Belgrade in 2015, in the guitar department in the class of professor Lazar Ostojić. He completed his six-year education at the primary music school in the guitar department in four years. He is currently a student of the fourth grade of the High school of music "Kosta Manojlović" in Zemun – Belgrade.

Some of his most important international awards:
International Guitar festival 2022 – Czech Republic - first prize and winner of the competition
Guitar Art Festival 2022 – Belgrade, Serbia - first prize
Antwerpen Gitaarfestival 2021 – Antwerp, Belgium – first prize
Forum Gitarre Wien 2021 – Vienna, Austria – second prize
Anna Amalia 2021 – Weimar, Germany – first prize
Andres Segovia 2021 – Monheim am Rhein, Germany – second prize
Classic Art Festival 2020 – Šabac, Serbia – first prize and laureate
Tremolo 2020 – Skopje, North Macedonia – first prize
Szeged Guitar Festival 2020 – Szeged, Hungary – first prize
Representative and a winner of the Serbia in talent show program "Virtuosos V4+" held in Hungary in Budapest in September 2020
Montenegro Guitar Festival 2020 – Tivat, Montenegro – first prize
Guitar Art Festival 2019, 2020 – Belgrade, Serbia – first prize
Pleven Guitar Festival 2019 – Pleven, Bulgaria – first prize
Transylvania Guitar Festival 2019 – Cluj-Napoca, Romania – first prize
Pannonia Guitar Festival 2018 and 2019 – Serbia – first prize
Guitarist association of Vojvodina 2018, 2019, 2021 and 2022 – Novi Sad, Serbia – first prize
Republic competition in Serbia 2018 – Belgrade – first prize
Vuk Vukajlović was awarded as the most successful student of "Kosta Manojlović" High School of music in the 2018/2019 school year.
Concert activity:
Solo concert in Strings Instruments Gallery, Belgrade 2021
Solo concert at Guitar Art Festival Belgrade 2021
Solo concert in the History Museum of Serbia 2021
Solo concert with string quintet in Student Cultural Centre Belgrade 2022
Solo concert in Gallery IKAR – Belgrade 2022
Solo concert in Cultural Center EĐŠEG – Novi Sad, Serbia 2022
Solo concert organized by Virtuosos V4+ production – Szeged, Hungary 2021
Solo concert organized by Virtuosos V4+ production – Veszprem, Hungary 2021
Solo concert organized by Virtuosos V4+ production – Budapest, Hungary 2021
In addition to the solo concerts, he performed in renowned halls such as: Kolarac Endowment, Belgrade Philharmonic, Zemun Aviation House, New Belgrade Municipality Hall, Belgrade Youth Center, Leskovac Cultural Center, Count Dundjerski Castle "Fantast" in Bečej – Serbia etc.
Summer and winter guitar schools:
Summer guitar school with Professor Miloš Janjić;
Winter guitar school in Novi Sad with Professor Zoran Krajišnik;
Guitar school "Eva Music" with professor Aleksandar Hadži-Đorđević;
Summer and winter school in Bosnia and Hercegovina with professors Predrag Stanković, Denis Azabagić, Boris Tešić and Sanel Redžić;
Summer guitar school Postojna, Slovenia;
Active participant of Guitar Art Festival from 2017 to 2022
Masterclasses:
Srđan Tošić, Darko Karajić, Vera Ogrizović, Slobodan Milivojević, Nemanja Ostojić, Odair Assad, Sergio Assad, Anabel Montesinhos, Thomas Müller Pering, Goran Listeš, Costas Cotsiolis, Alexander Swete, Marco Tamayo, Joaquin Clerch, Ruben Bettencourt, Tal Hurwitz, Dimitri Illarionov, Paolo Pegoraro, Antonio Rumenović, Andreas Csaki, Jure Cerkovnik, Vojin Kocić, Predrag Stanković, Denis Azabagić, Dejan Ivanović, Sanel Redžić.
****************************************************************************************
Agustin Barrios Mangoré (1885 - 1944) LA CATEDRAL
Preludio saudade
Andante religioso
Allegro solemne
Francisco Tárrega (1852 - 1909) VARIATIONS ON THE THEME OF "CARNIVAL FROM VENICE"
Dušan Bogdanović (1955) LAMENT
SIX BALKAN MINIATURES
Morning Dance
Lament
Vranjanka
Macedonian Dance
The Wide Song
Tiny-Knit Dance
Uroš Jaćević
was born in Belgrade in 2006. His musical talent was recognized in the earliest years of his childhood and he began playing classical guitar in his sixth at the Music school "Vatroslav Lisinski" in Belgrade. There, he finished his elementary education in the class of prof. Dragan Petrović and his secondary education in the class of prof. Amalia Miller.
Dedication and passion for playing brought him great success at national and international competitions: Germany (Juchen, Weimar, Monnheim), Austria (Vienna, Rust), Greece (Volos, Molivos-Lesbos), Italy (Mottola, Alessandria), Finland (Tampere), Croatia (Samobor), Russia (Moscow), Bulgaria, Romania and China, with over 40 first prizes and laureates as a soloist and about twenty awards with chamber music and with the Philharmonic Guitar Orchestra "Dušan Trifunović".
The most important and beloved achievements on European competitions for young guitarists since the age of thirteen are the first prizes on some of the most prestigious competitions, such as "Anna Amalia" in Weimar, Germany in 2019, as well as Guitar Art Festival in Belgrade 2019 and Volos International Guitar Festival, "Michelle Pittaluga" Junior in Alessandria, Italy in 2021, the International Young Guitar Competition in Mottola, Italy in 2021 and "Forum Gitarre " in Vienna, Austria in 2022.
The most important was the National "Saint Sava" Award, for achieved outstanding results in education, awarded by the Ministry of Education, Science and Technological Development, Republic of Serbia. He received scholarship from the Foundation for Young Talents City of Belgrade, and National Scholarship for the Gifted and Talented students. In the year of 2020, he was one of the winners of the competition "Young and Successful" organized by National Broadcasting Network, Music Production RTS and one of the most promising young European Guitarists at the "Michelle Pittaluga" Festival in Italy.
He carried out his constant wish for learning and improving on master classes, summer schools and workshops with renowned domestic and international guitar professors: Paolo Pegoraro, Lukasz Kuropaczewski, Hubert Käppel, Costas Cotsiolis, Marco Tamayo, Zoran Dukić, Aniello Desiderio, Judicaël Perroy, Lucio Matarazzo, Darko Karajić and many others.
The Summer Guitar Schools in Italy ("Italian Guitar Campus" and Seicord Academy), Slovenia (Guitar Week in Postojna), Greece (Delphi), Poland (Zbaszin Guitar Workshop) were all wonderful experiences to meet many great people. As the youngest member, he participated in a unique artistic project in Volterra, Italy - Volterra Project, working with composer Dušan Bogdanović and professor Antigoni Goni.
He presents his virtuosity and musicality with the greatest enjoyment on performances, concerts, and festivals at his native country and abroad. He has had a chance to perform at the Ilija Kolarac Endownment, one of the most important concert halls in Belgrade, National museums and galleries. One of the most important ones were: the performance at the National Event "Night of Music" organized by the National Broadcasting Network, RTS Music Production, at 2020; the opening concert of the Festival for young guitarists in Juchen, Germany in 2019, the performance at the prestigious "Michelle Pittaluga" festival, Alessandria in Italy, in 2020, and above all his first solo concert at the National Museum of Serbia, Belgrade, 2022.