JAKA MIHELAČ (SLO/D) - BARITONE AND JURE CERKOVNIK - GUITAR (SLO/CH)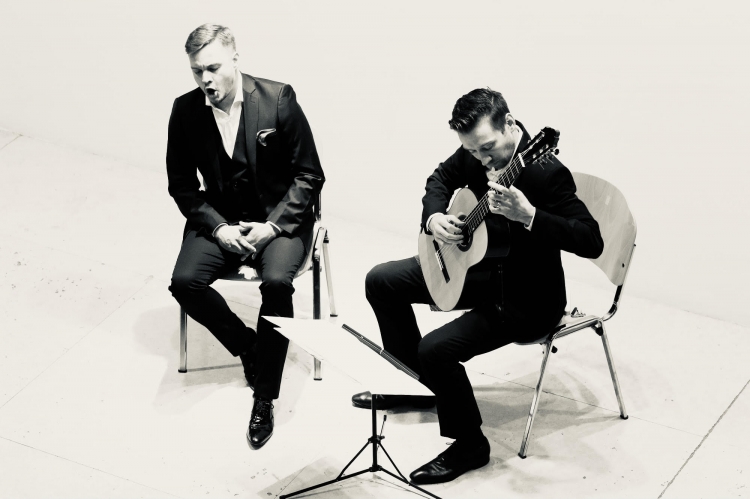 PROGRAMME

Josip Procházka (1874-1956) KAJ BI TE VPRAŠAL?

Lucijan Marija Škerjanc (1900-1973) POČITEK POD GORO

Anton Lajovic (1878-1960) SERENADA

Benjamin Ipavec (1829-1908) BOŽJI VOLEK

Kamilo Mašek (1831-1859) POD OKNOM



Tomasso Giordani (1739-1806) CARO MIO BEN

Giovanni Battista Pergolesi (1710-1736) NINA

Claudio Monteverdi (1567-1643) SI DOLCE É L'TORMENTO

Antonio Caldara (1679-1736) SELVE AMICHE

Jean-Paul-Égide Martini (1742-1816) PIACER D'AMOR

Guilio Caccini (1545-1618) AMARILI, MIA BELLA

Georg Friedrich Händel (1685-1759) OMBRA MAI FU



Benjamin Ipavec (1829-1908) ČE NA POLJANE ROSA PADE

Josip Pavčič (1870-1949) USPAVANKA ll

Benjamin Ipavec (1829-1908) V SPOMINSKO KNJIGO

Benjamin Ipavec (1829-1908) MAK ŽARI

Anton Lajovic (1878-1960) MESEC V IZBI


All arrangements by Jure Cerkovnik


Jaka Mihelač studied at the Music academy in Ljubljana in the class of prof. Matjaž Robavs. Prior to his singing studies he recieved his musical education as a guitarist, first in the class of Vesna Soban in Vrhnika, then at the Conservatory of music and ballet Ljubljana in the class of Anton Črnugelj and later at the Academy of music in Ljubljana in the class of Katja Porovne Silič.

In 2019 and 2021 he was a member of the International Opera Studio at Staatsoper Berlin, where he has embodied numerous roles, working under the baton of conductors, such as Daniel Barenboim, Zubin Mehta, Vladimir Jurowski, Peter Ruzicka, Thomas Guggeis, Massimo Zanetti and Alessandro De Marchi and directors such as Claus Guth, Alvis Hermanis, Bart Sher and Martin Kušej.

He has performed with the Staatskapelle Berlin, the orchestras of the Gran Teatre Liceu, Teatro Real Madrid and Slovene National Theatres Maribor and Ljubljana, the Berliner Symphoniker, the Slovenian Philharmonic orchestra and others.




Jure Cerkovnik is a young Slovenian classical guitarist of extensive international activity.

He has given concerts in many European countries and Asia and has participated in various music festivals as a concert performer or pedagogue. Among them are guitar festivals in Vienna, Zagreb, Zürich, Lucerne, Aarhus, Sarajevo, Acerra and the International Guitar Festival in Postojna. In 2018 and 2019 he toured Japan and Taiwan; In February 2017 he made his debut with the solo recital at "Konzerthaus Wien" - Vienna's central music venue. The Austrian capital was important for his artistic formation as he graduated in 2013 from the University of Music and Performing Arts in the class of prof. Alvaro Pierri. After his master studies he continued his musical education in the class of prof. Anders Miolin in Zürich at the University of the Arts, where he currently teaches.

He has performed as a soloist with the Karlovy Vary Symphony Orchestra, the Symphony Orchestra of Vrhnika and the Sarajevo Philharmonic Orchestra. He premiered several works by Slovenian and foreign composers, some of which were dedicated to him. In December 2017 he released his first CD "Palettes" (Baros Records) with works by Ponce, Ourkouzounov, Rebay and Bogdanović. With Slovenian baritone Jaka Mihelač he is preparing his second CD, which will include several of Jure's arrangements of Slovenian works for voice and guitar.