IOANNA KAZOGLOU (GR) and JAKA ŠKOBERNE (SLO)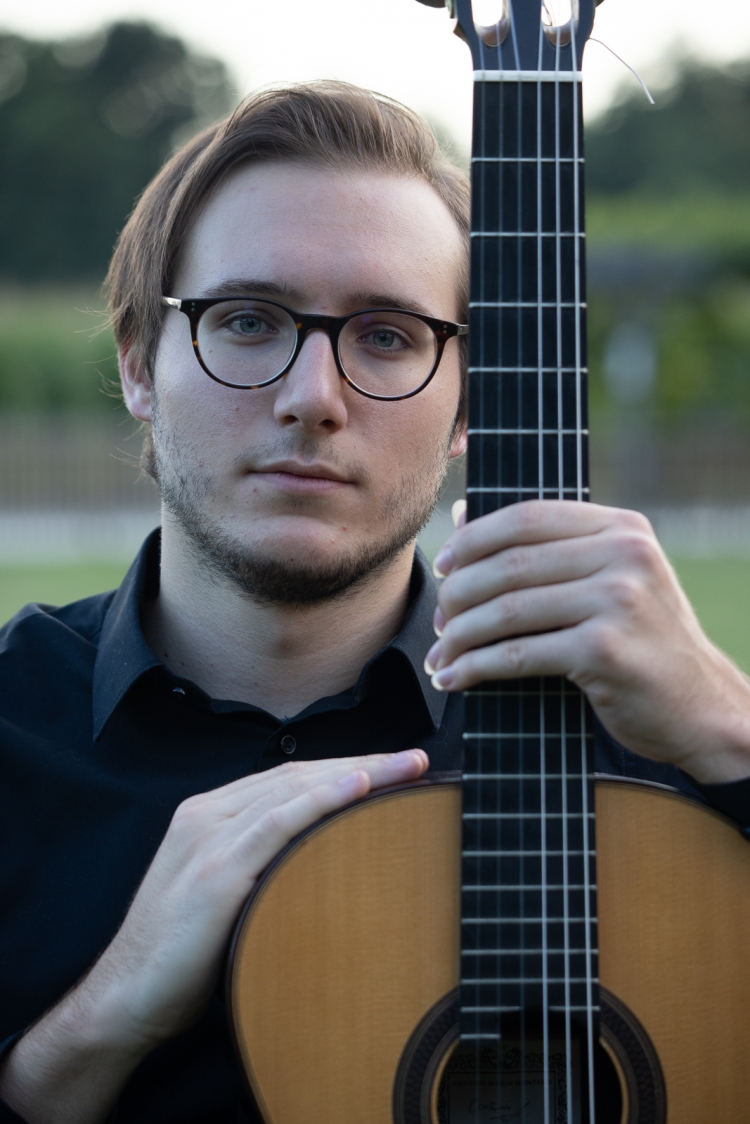 PROGRAMME


Joaquin Turina (1882-1949) SEVILLANA


Dionisio Aguado (1784-1849) ANDANTE AND RONDO OP. 2, NR. 2


Leo Brouwer (1939) SONATA DEL CAMINANTE, NR. 2


Ioanna Kazoglou (2003) comes from Florina in northern Greece. She took her first guitar lessons at the age of 7 with Sonia Charalambidou. In 2013 she started guitar lessons in the class of Loukia Samourka at the Music College of Thessaloniki, from where she received her diploma in January 2019 with an excellent grade. From October 2021 she studies at the "Hochschule für Musik Franz Liszt Weimar" under Professor Ricardo Gallen.
Ioanna has taken part and received the first prizes in the following competitions:

1st Thessaloniki Guitar Festival in 2014
2nd Thessaloniki Guitar Festival in 2015
27th Guitar Festival in Patras in 2018
8th Guitar Festival of Paleo Faliro in Athens in 2019
11th "Andres Segovia International Competition" in Monheim in 2021
24th International Youth Competition in Vienna in 2021

She has attended masterclasses with Roland Dyens, David Russell, Oscar Ghiglia, Aniello Desiderio, Zoran Dukić, Marcin Dylla, Judicaël Perroy, Marco Tamayo, Alvaro Pierri, Margarita Escarpa, Jorgos Panetsos, Gabriel Bianco, Rovshan Mamedkuliev and Roberto Aussel. Ioanna has given recitals at various occasions including the Athens Concert Hall in november 2019 as an award of the "Art Campus Delphi 2019", the Thessaloniki Concert Hall in september 2021 and in Wuppertal at the "Hochschule für Musik und Theater Köln" in december 2021 (invitation as a young talent).


***********************************************************


Alexandre Tansman (1897-1986) HOMMAGE A CHOPIN


Napoléon Coste (1805-1883) LE DÉPART OP. 31


Ivo Petrić (1931-2018) PRELUDIJ NR. 3 – NOTTURNO SFERICO


Astor Piazzolla (1921-1992) ADIOS NONINO
(arr. Abel Carlevaro)


Jaka Škoberne was born on January 8th 1999 in Ptuj.
He began playing guitar at the age of six at the Lendava music school. Firstly he was taught by professor Vojislav Slijepčević, later his teacher was Dušan Stojanović.
After finishing France Prešeren primary school in Črenšovci he passed the entrance exams in musical talent at the Conservatory of Music and Ballet in Maribor where he enrolled the 1st year at the high school of arts in the class of professor Vojko Vešligaj. During his schooling he took part in numerous national and international competitions in Slovenia and abroad where he achieved high results:

1st prize at the national competition TEMSIG 2021
2nd prize at the competition SVIREL 2018
1st prize at the »Subotica Guitar Open Festival 2012«
1st prize at the national competition TEMSIG 2020 in the category of guitar duos with Maja Kralj.

He obtained additional education at various seminars and master classes with the renowned professors such as: Łukasz Kuropaczewski, Rafael Aguirre, Paolo Pegoraro, Dávid Pavlovits, Nejc Kuhar, Mak Grgić, István Römer, Jure Cerkovnik, Jimmy Liu, Hugo Fernando Gonzales Zurita and many others.
After finishing his schooling at the conservatory in Maribor he continued studying guitar at the Academy for Music in Ljubljana where he is currently taught by professor Tomaž Rajterič.