CROATIAN GUITAR QUARTET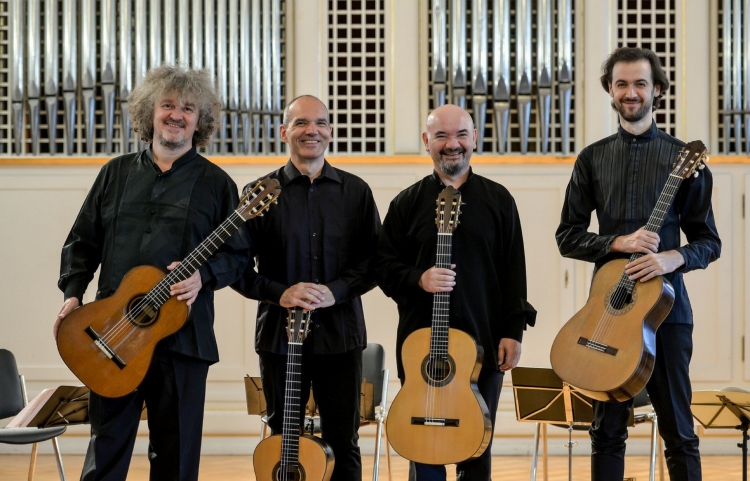 PROGRAMME


Luigi Boccherini (1743 – 1805)
(arr. Jeremy Sparks) FANDANGO, G. 448


Antonio Vivaldi (1678 – 1741) LARGO from VIOLIN CONCERTO, RV 297 (Winter)


Astor Piazzolla (1921 – 1992)
(arr. Krešimir Bedek) INVIERNO PORTENO (Winter)


Miroslav Miletić (1925 – 2018) SUITE DU BOURDON
Prélude
Aria
Alla Gavotte
Dialogue
Finale


*************************************************


Gordan Tudor (1982) BAŠAMAR


Sergej Prokofjev (1891 – 1953)
(arr. Tvrtko Sarić) ROMEO AND JULIET SUITE, OP. 75
Scène
Montecchi e Capuleti


Zoran Juranić (1947) BAGATELLE FOR HOME USE
Mosso
Allegretto - Omaggio a Nino Rota
Andante molto comodo
Vivace


Astor Piazzolla (1921 – 1992)
(arr. Thomas Fellow) CONCERTO PARA QUINTETO



The Croatian Guitar Quartet held their first concert in 2016. Following that, the Quartet has presented itself to both Croatian and Slovenian audience on multiple subsequent concert tours. In recognition of their performance as the best of the 2017 Dubrovnik Summer Games, the Quartet received an Orlando award presented by the Croatian Radiotelevision.

Together with four other eminent croatian guitarist (Morana Pešutić, Pedro Riberio Rodrigues, Tomislav Vukšić and Krešimir Bedek) The Croatian Guitar Quartet released the first CD and DVD "Guitarrismo", (Croatia records, 2020). Album was nominated in two categories for Porin award. Their chamber music repertoire includes duos, trios and quartets. In addition, they have performed Vivaldi's Concerts with the Zagreb soloists and the Varaždin Chamber Music Orchestra.