STRING ORCHESTRA DISSONANCE AND ORCHESTRA AMADEO (SLO)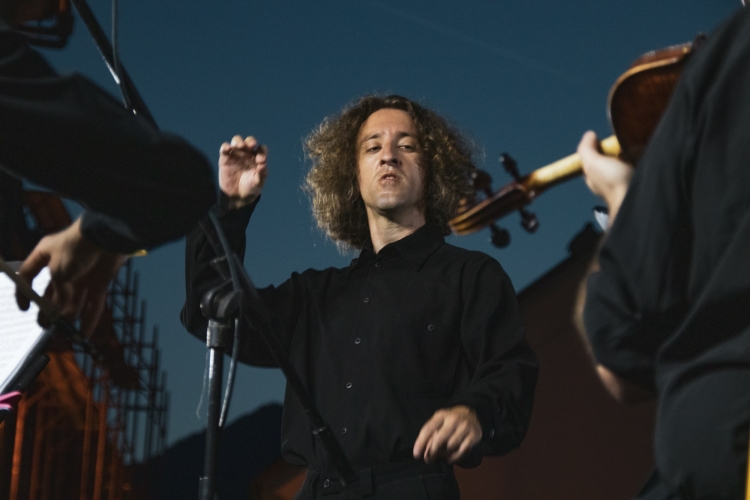 PROGRAMME


Mario Castelnuovo-Tedesco (1895 – 1968) CONCERTO FOR GUITAR NR. 1
Allegretto
Andantino alla romanza
Ritmico e cavalleresco
solo: Jure Cerkovnik


Nejc Kuhar (1987) CONCERTO FOR GUITAR NR. 1
Allegro
Adagio
Scherzo
Finale
solo: Nejc Kuhar


Leon Firšt (1994) THE BEATZ CONCERTO
Introduction
Waltz
Meditation
The beat
solo: Mak Grgić

Conductor: Tilen Draksler


Tilen Draksler completed his Master of Orchestral Conducting at the Karatina Gurska Academy in Madrid, under the mentorship of Maestro George Pehlivanian. He also graduated in piano in the class of Tatjana Ognjanovič at the Academy of Music in Ljubljana, and postgraduate studies at the "Budapest Music Franz Liszt Academy" in Budapest under the mentorship of Laszlo Baranyay. He perfected his conducting skills with renowned conductors such as Lior Shambadal, Cristóbal Soler, César Viana, Borja Quintas, Arturo Tamayo, Miquel Rodrigo, Tim Redmond, Morten Wensberg, Jon Malaxetxebarr, Mark Heron, Holger Speck. He is the founder of the Amadeo Festival and the Amadeo Orchestra. He has conducted orchestras such as: Moscow Philharmonic, Berlin Sinfonietta, Slovenian Philharmonic, RTV Slovenia Symphony Orchestra, NC Royal Orchestra Manchester, Malaga Philharmonic Orchestra, Amadeo Orchestra, Katarina Gurska academy orchestra Madrid, Sibelius academy orchestra Helsinki, POA Orchestra , Camerata Medica, Orchestra Trnovo, Orchestra Pro Medico. He was awarded the municipal recognition of the mayor of Celje for cultural achievements. He currently works as an assistant to Maestro George Pehlivanian at many projects.